The Solankis and The Sharmas are back together on the first episode of What The Folks Season 3 by Dice Media.
Have you daydreamt about an alternate reality? A start with an alternate reality? Nikhil (Veer Rajwant Singh) being a loser at his startup, Shreya (Kriti Vij) being happily married and Kiran Solanki (Shishir Sharma) being dead. This could be true somewhere in the parallel universe.
Ohh, No!
But, you know it ain't true. Right? Because this is not your regular drama series! What The Folks is little quirky with the amalgamation of modern-day family and life issues to struggle with.
Real laughter and a combination of life problems solved together with family! What The Folks for this season, is going to have 3 times more fun! Vandu (Renuka Shahane) and Kiran (Shishir Sharma) will give you a burst of laughter and thoughtfulness, for a couple who in their adulthood with such outburst of love.
Typical relatives discussing re-marrying their divorced sons and daughters. The first episode is mostly about the generation gap and how modern-day parents are still struggling to overcome it.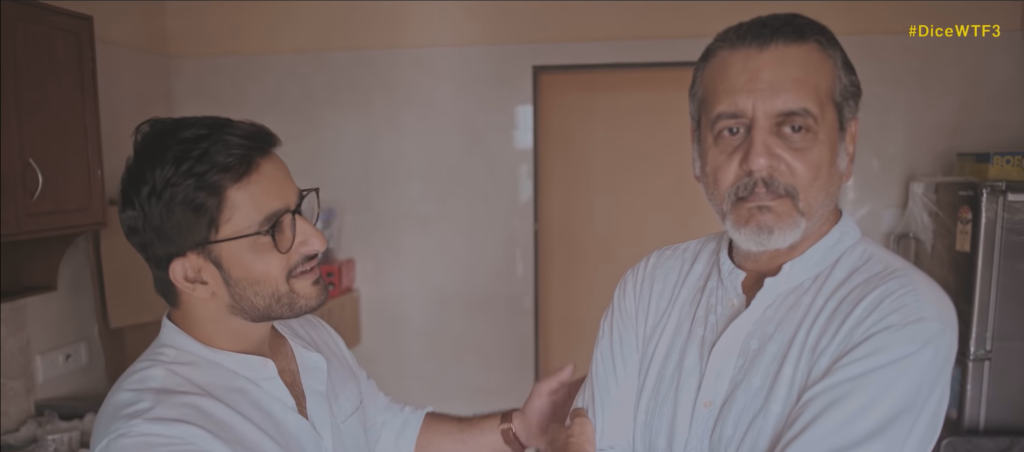 Also, unlike the first and second season of What The Folks, where the members of the family had a lot of communication gap and no hearty talks, you will see them all having happy conversations with each other.
While Nikhil (Veer Rajwant Singh) and Anita (Eisha Chopra) are still figuring out ways to handle their relationship, you'll also see them bringing their family together.
Thode Se Sansakaar, And Bohot Saara Pyaar. What The Folks Season 3 by Dice Media is back to entertain you with Episode 1.
Go watch it now!