Who does not like stand ups? Stand up comedy has seen some of the greatest comedians of all time from Abhish Mathew to Biswa kaliyanrath to Abhishek Upamanyu and never ending list of the best stand up comedians in India. Out of them is Vir Das who has started his career as a stand up comedian, soon he moved to hindi movies starring in Delhi belly and Go Goa Gone. In 2017 he entered the international stage with his Netflix special "Abroad Understanding". In 2019, he made his debut in American television with the television series, Wiskey Cavalier. And now with another netflix special, Vir Das for India

His writing is as fine as a bottle of wine and now he is back with his Netflix special which is based on the history and culture of India The special released on 26th of January on the occasion of 70th Republic day and in very short span the social media went gaga over it.

The set has an amazing design where Das sits on a stoop and is surrounded on three sides by the audience. Red light is used to point out the "non-Indians" for whom he'll explain some of the Indian references as he goes along. He begins as follow-"If I could tell you four things about my country, where I'm from, what would they be? We'd probably agree on about three of them, and we'd probably fundamentally disagree about one of them. And that's OK. That one would be just for me. That's all tonight's show is. It's three for you. One for me. Are you ready to begin?"

Doing comedy on historical or cultural factors is itself a challenging tasks which Das pulls off with self confidence and make people go mad over his satire. Here are some of the hilarious moments of the show:

1. Das translates the hindi song of The Jungle Book for non-Indians and it goes like this "Big news from the jungle. The jungle has a new flower. And he has grown inside an underwear."
2. He also points out the best bicuit in the world ie. Parle G biscuit. To which he say to the audience " Non Indians on behalf of a billion people, can I say F*** your cookies".
3. He also jokes about the Fair and Lovely cream, where he says "Guys its racism in a tube, thats basically what it is".
4. Then he makes joke on "chavanprash" by saying "Choke your children the legal way" on which croud went crazy laughing.
5.He also mentions the first thing to drink when someone comes to India is Old Monk Rum. To which he jokes "This rum is so strong that if we begin a story with so we were drinking Old Monk… you can skip to the end of the story".
6.He also jokes about the fingerprint that he needs to give when he visit abroad to which he jokes "Its very embarrassing that i have to give my fingerprint when i visit your country, so when you come to our country, i put the same fingerprint on your head".
7. Then he also tells us that he will be doing a Mother Teresa joke but then he suddenly says "Mother Teresa is so nice that in comedy she is untouchable".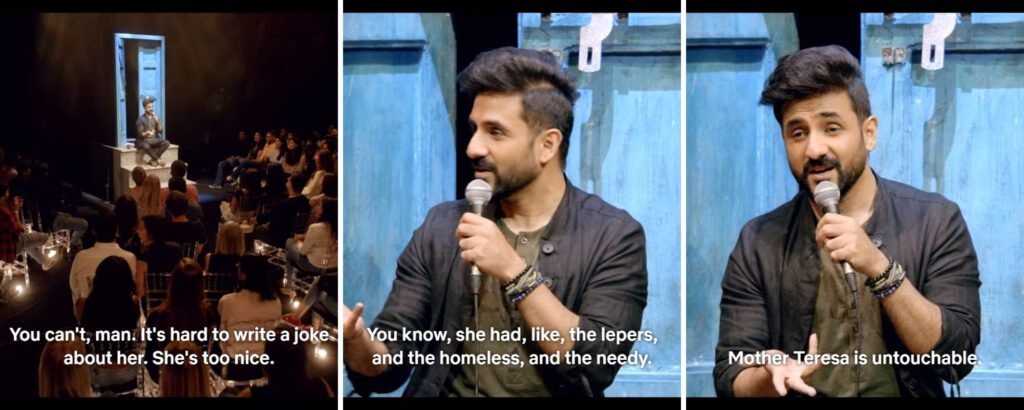 This was just a small part of the show. Every minute of the show is filled with wit and humour. So Vir Das for India is a good wrap of comedy with intelligent jokes.